Exclusive Bundle by SOUNDYETI
Collision FX for Kontakt Player delivers an exceptional palette of sounds to design, compose, score, sweeten and create astonishingly impressive cinematic elements. The Epic Movie Trailer pack is filled with deep subsonic impacts, breath halting bassy hits and depth setting designed sounds making for a must have cinematic and hybrid SFX sound library. Great value at this price point.
Rewards
Login
to see your rewards
?
For every dollar you spend with APD, past, present, or future, we'll give you back 10% of that in store rewards credit that will be saved in your Rewards Wallet.
current price 289.98 base price89.99
Overview: Products Included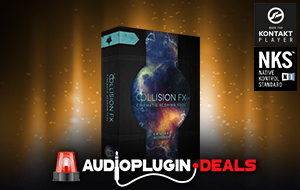 Eloquent and audacious, Collision FX cinematic scoring tool is a sound design supercharger with everything you need to create cinematic elements that truly express the sonic emotion in your audio productions. Straight up, out of the box, start with the Collision FX unconventional palette of sounds and use the built in 234 NKIs that are hand crafted, created by expert sound designers, audio engineers and musicians for adding film and AAA game style cinematic elements to your mix or score in moments.
$239.99 Value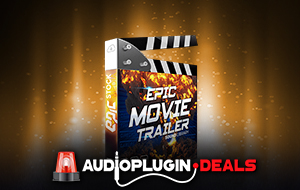 Ranging from multiple film genres, Epic Movie Trailer meets the needs of the modern-day film sound designer and cinematic music composer. Epic Movie Trailer is a fast and sure way of gaining the tools you need to give your production a sonic advantage. Get access to 360+ high-quality 96k 24bit designed trailer sound effects .wav files that turn heads and are great for trolling your audience.
$49.99 Value
Subscribe
Cinematic Scoring Hybrid Sound Effects Kontakt Plugin - Collision FX
Collision FX: "Main Page" Tutorial
Collision FX: "Sculpting Page" Tutorial
Collision FX: "Effects Page" Tutorial
key Features
A Complete Bundle for Cinematic Sound Design
3,400+ Sound Sources @ 96k 24bit Resolution
16.72 GB of Samples (uncompressed)
Epic movie Trailer contains 360+ audio files available in both .WAV 96k 24 bit resolution and 44.1k 16 bit
Game and Film Trailer Sound Effects Library
Perfect for Action, Tension, Suspense, and Movies
Powered by KONTAKT 5 ver 5.6.8 or later
Includes KONTAKT 5 Player – Nothing Else to Buy
Native Instruments NKS Ready with KOMPLETE KONTROL & MASCHINE